美国杜博林Deublin D系列高压转动低速旋转接头
Deublin D Series High Pressure Low Speed Rotating Union
美国杜博林DEUBLIN D系列旋转接头设计用于特别高压回转中的角运动。典型的应用是地面移动设备中的动力转向系统。甚至可以在高压下作为旋转接头使用,因此同时也可以用于连续油管车软管卷绕。该接头为精密产品,采用了适用于液压油或水介质应用的材质。最大液压 / 水压: 400bar , 最大转速: 500r/min , 最大温度: 120℃ 。 这种具有双重能力的独特产品可以经过改造用于其他液体,此时,请与我公司工程部联系。 Dublin Deublin D series rotary joint is designed for angular motion in special high pressure rotary. The typical application is the power steering system in the ground mobile equipment. It can even be used as a rotary joint under high pressure, so it can also be used for coiled tubing vehicle hose winding. The joint is a precision product, which is made of materials suitable for hydraulic oil or water medium applications. Maximum hydraulic pressure / water pressure: 400bar, maximum speed: 500r / min, maximum temperature: 120 ℃. This unique product with dual capabilities can be modified for other liquids. Please contact our engineering department at this time.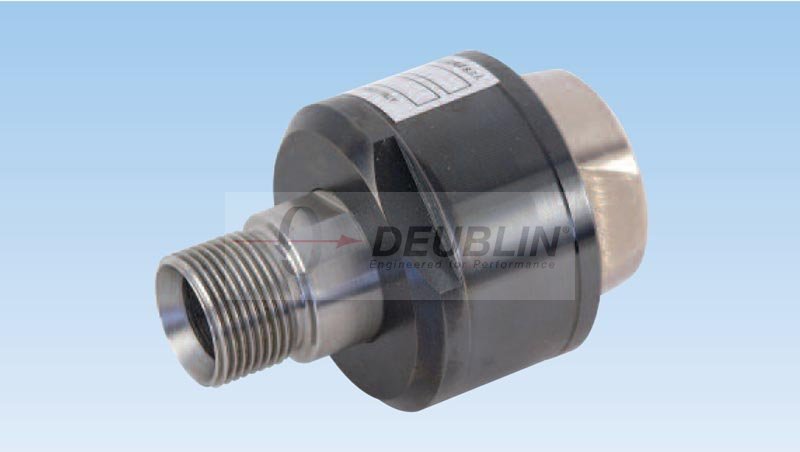 Deublin D Series High Pressure Low Speed Rotating Union
DEUBLIN Rotating Union D Series for Water and Hydraulic Oil Service,DN 8 - 40
技术资料下载

产品 特点:

— 单通道设计 monoflow design
— 自支撑旋转接头self-supported rotating union
— 回转及高压介质应用
— 液压油和水应用型 for hydraulic oil and water
— 钢形外壳和端盖 steel housing and end cap
— 不锈钢转体stainless steel rotor
— 可以根据需要使用其他介质 can be adapted for other media upon request
- 适用于旋转应用和高介质压力e、 g.用于土方设备或软管卷盘上的动力转向应用
for swivel applications and high media pressure e.g. for power steering applications on earth moving equipment or hose reels

操作参数:

最大液压 / 水压: 400bar
最大转速: 500r/min
最大温度: 120℃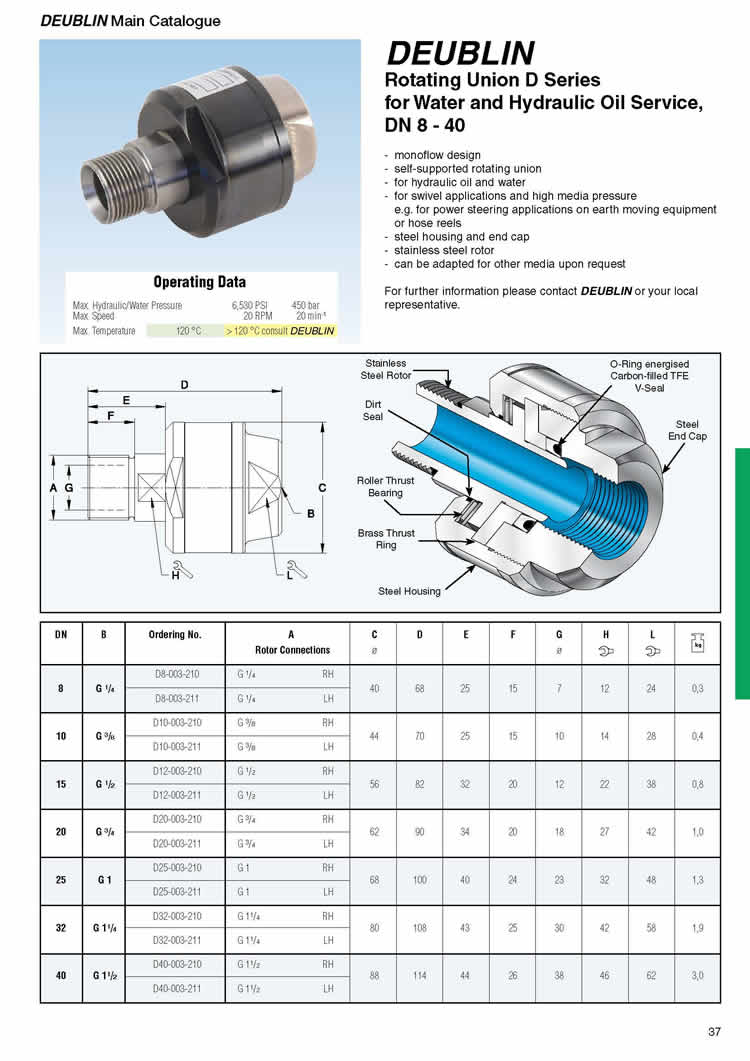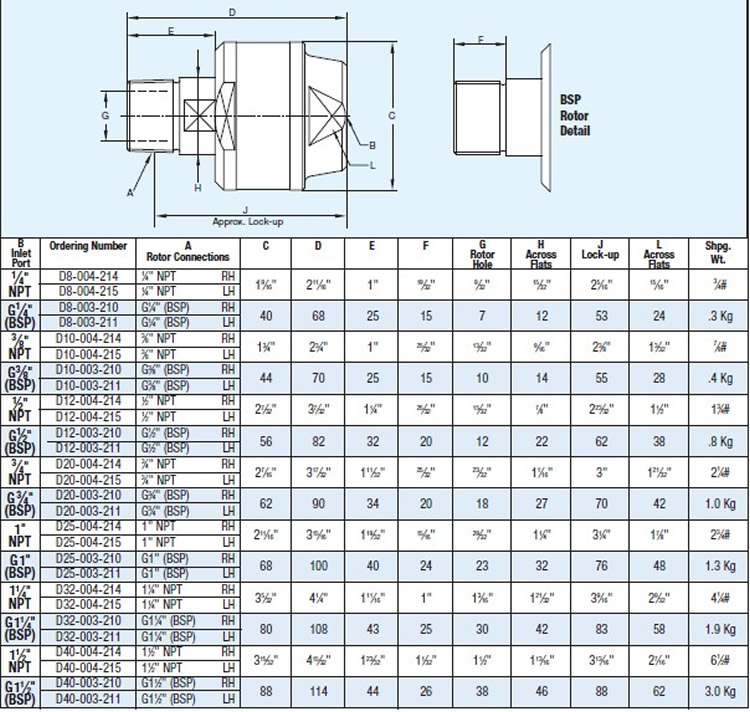 D10-003-210 UNION,3/8" BSP RH
D10-003-214 UNION BSP HOUSING/NPT ROTOR
D10-004-214 UNION,3/8 NPT RH ROTOR
D10-004B214 REBUILD KIT, D10
D12-003-210 UNION,1/2 BSP RH ROTOR
D12-003-211 UNION 1/2"BSP LH ROTOR
D12-004-214 UNION,1/2 NPT RH ROTOR
D12-004B214 REBUILD KIT, NPT RH
D20-003-210 UNION, 3/4"BSP RH ROTOR
D20-003-211 UNION,1 BSP LH ROTOR
D20-004-214 UNION,3/4 NPT RH ROTOR
D20-004B214 REBUILD KIT, D20 3/4"NPT RH
D25-003-21 UNION, 1"BSP LH
D25-003-210 UNION,1 BSP RH
D25-003-211 UNION, 1"BSP LH
D25-003B210 REBUILD KIT
D25-004-214 UNION,1" NPT RH ROTOR
D25-004A0 STANDARD REPAIR
D25-004B214 REBUILD KIT, D25 1"NPT RH
D32-003-210 UNION,1-1/4 BSP RH ROTOR
D32-003-211 UNION,1 1/4 BSP LH ROTOR
D32-004-214 UNION,1 1/4" NPT RH ROTOR
D32-004B214 REBUILD KIT, D32 1-1/4"NPT RH
D32-004C REPAIR KIT
D40-004-214 UNION,1 1/2" NPT RH ROTOR
D40-004B214 REBUILD KIT RH
D40-004C REPAIR KIT
D8-003-210 UNION
D8-004-214 UNION,1/4 NPT RH ROTOR
D8-004B214 REBUILD KIT, D8 1/4"NPT RH
DEUBLIN Ordering No.

D8-003-210
D8-003-211
D10-003-210
D10-003-211
D12-003-210
D12-003-211
D20-003-210
D20-003-211
D25-003-210
D25-003-211
D32-003-210
D32-003-211
D40-003-210
D40-003-211
450 bar
20 RPM 20 min-1