Deublin Company
Deublin Company is the leading manufacturer of Rotating Unions - a mechanical device that allows transfer of pressurized fluid from a stationary source into rotating machinery for heating, cooling or transfer of fluid power.
While Deublin Company was not the originator of Rotating Unions, its entrée into the market was its unique design that incorporated balanced mechanical seals. The then innovative design was immediately accepted by the industry and this began the growth of the company.
Rotating Union applications include Air Clutches, Gear Boxes, Machine Tool Spindles, Textile Equipment, Rubber & Plastic Manufacturing Machinery, Steel Continuous Casting Machines and Paper Machine Calendar stacks. In 1989 Deublin product line was expanded to include Steam Joints and Siphon Systems for Paper Machine Dryer Cans.
With its world headquarters in Waukegan - a suburb of Chicago, IL - Deublin spans the world with wholly owned subsidiaries in Austria, Brazil, Canada, China, Finland, France, Germany, Italy, Japan, Korea, Mexico, Poland, Singapore, Spain, Sweden and the United Kingdom. In the rest of the world, Deublin products and services are available through Authorized Distributors.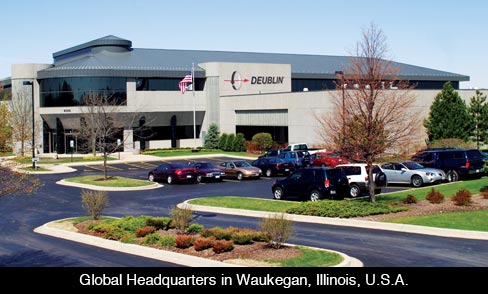 What is a Rotating Union?
Generally spoken a Rotating Union is a precision mechanical device used to transfer fluid from a stationary source, such as a supply pipe, into a rotating piece of machinery.Rotating Unions are used in numerous manufacturing processes to cool, heat or transfer fluid (pneumatic or hydraulic) power.
Rotating Union applications include Air Clutches, Gear Boxes, Machine Tool Spindles, Textile Equipment, Rubber & Plastic Manufacturing Machinery, Steel Continuous Casting Machines, Paper Machine Calender stacks, Paper Machine Dryer Cans, etc.
Typical rotating unions feature deep groove ball bearings to support the rotating component against the stationary component, and balanced, precision-engineered mechanical seals to seal the media flow.Mechanical seal face materials and secondary seals will vary depending upon the fluid properties & operating conditions of the application. Likewise, bearing type, design, material & construction will also vary with application.
Original rotating unions used the media pressure to maintain seal contact. Logic indicates that as pressure increases, so do the forces holding the seals together - more pressure = tighter, "better" sealing. This is why they were called "pressure joints".
However, more pressure on the rotating seal face also meant more friction, higher torque and more wear. The resulting service life was not satisfactory.DEUBLIN was aware of the disadvantage and applied "Balanced Mechanical Seal Technology", a decisive improvement.
This simply means the load or pressure on the seal faces is kept to a minimum regardless of media pressure, resulting in a freer turning union and in longer seal life. Optimal balance ratio allows for a thin film of "lubricating" media between the seal faces. In order to attain sealing in a non-pressurised system, the floating seal contact is maintained by the spring pressure.
The core of a rotating union is the seal combination. Seal faces manufactured from tool steel, carbon graphite, bronze, ceramic, tungsten carbide or silicon carbide are micro-lapped to a surface finish of 0.025 RMS and an optical flatness of 2 light bands. To ensure the above specifications the near perfect flatness is tested under mono-chromatic light.
DEUBLIN Rotating Unions can be selected by the following categories:

Air Unions
Air-Hydraulic Unions
Air-Hydraulic-Coolant Unions
Brake Fluid Unions
Coolant Unions
General Purpose Unions
Hot Oil Unions
Hydraulic Oil Unions
Steam Unions
Vacuum Unions
Water Unions
High Pressure High Speed Unions
Here are just some of the industries that rely on DEUBLIN for their unique Rotating Union needs:

ALUMINUM
AUTOMOTIVE
CAN MAKING
CAR WASH EQUIPMENT
CHEMICAL/PETROCHEMICAL/REFINERY
CONSTRUCTION EQUIPMENT
DISTILLERIES/BREWERIES
FARM EQUIPMENT
FLOOR & WALL COVERINGS
FOOD PROCESSING MACHINERY
GLASS MANUFACTURING
INSULATION
LAUNDRY EQUIPMENT
LUMBER & WOODWORKING
MACHINE TOOL
MARINE
MINING
PAPER
CONVERTING PLANTS
CORRUGATING
PULP & PAPERBOARD
ROOFING
PETROLEUM
PLASTICS
PRINTING
BUSINESS FORMS
FLEXOGRAPHIC
WEB OFFSET
RUBBER
STEEL
TEXTILE
TIRES
TRUCKING
Rotating Unions are also known in the industry by the following terms:

Rotary Unions
Rotary Joints
Rotating Joints
Steam Joints
Steam Fits
Swivels
Couplings
Rotating Couplings
Hydraulic Couplings
Rotary Couplings
Rotary Swivels
Hydraulic Swivels
Pneumatic Couplings
Pneumatic Swivels
So, if you speak in the terms mentioned above, do not hesitate to get in touch with us – we surely can offer a solution to your task.